Students & Interns
With hundreds of students across multiple global locations, HARMAN is dedicated to empowering students at every level through our programs, partnerships and more.
---
The Student Experience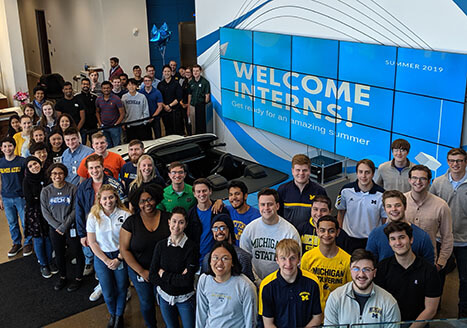 At HARMAN, our interns and co-ops are the livelihood of our organization! As we work with students from colleges and universities across the globe, our goal is to provide them with industry exposure and mentorship that will reside with them throughout their professional careers.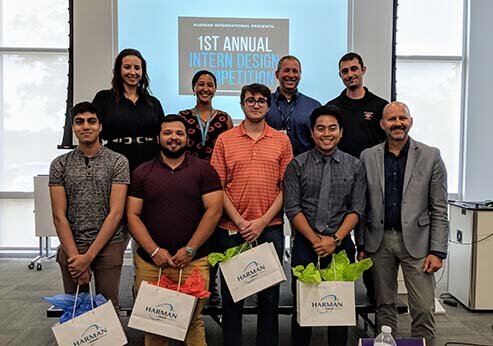 We aim to create an environment of learning and networking during our intern and co-op programs through life-changing experiences. Throughout their time with us; we host social events, professional development workshops and a project that allows us to glean insight from our interns. Providing our interns and co-ops the opportunity to learn outside of their team, allows them to being come knowledgeable of HARMAN and our culture.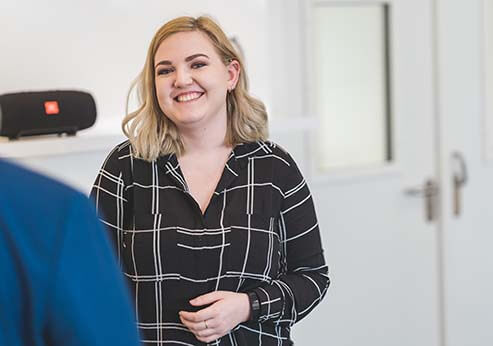 Our interns and co-ops are welcomed to be themselves here at HARMAN. With the different backgrounds, cultures and educational experience of our interns and co-ops we have the privilege to enhance our diversity of thought within the organization. We welcome you to learn and grow with us here at HARMAN!
---
Why Intern With Harman
Real-World Work
You'll take on assignments just like other employees and have a real impact on our business.
Development
As you take on different challenges, you will grow your knowledge and career potential.
Exploring Opportunities
During your time at HARMAN, you will discover some of the ins and outs of the industry, as well as gain a broader understanding of the business.
Networking
At HARMAN, you will have the opportunity to meet leaders from every part of our industry and work with true innovative professionals.
Meet Your Peers
Not only will you work with current business leaders, you will also meet future leaders of the industry as you network with your fellow students.
Fun
At HARMAN, we enjoy our work and want to make sure you do too!
---
Our Programs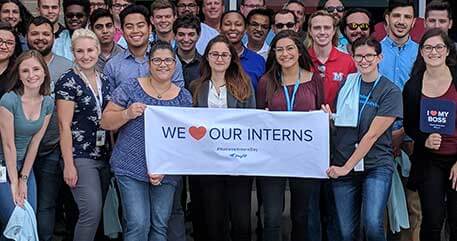 If you are looking for hands-on experience and exposure to real business challenges, then you have come to the right place. Interns at HARMAN can make an impact with real work and network with brilliant professionals during their time with us. We also work to make sure our interns receive a well-rounded experience. Through social and networking events, professional development workshops, and real-world assignments, we make sure students get a truly five-star experience.
We offer several internships throughout our global network. To see what opportunities are available now, search for internship openings on our site.
Our co-op program brings together the academic and working worlds for students. Participants in this program alternate between school and working with a team at HARMAN. They get to be active, viable members of the team, who are dedicated to honing their industry knowledge and enhancing their skills. This is an invaluable experience for any student ready to start their career.
We host several co-op positions throughout our global network. To see what opportunities are available now, search for co-op openings on our site.
To build innovative products at HARMAN, we invite every point of view – including students. Around the world, we partner with universities to help us advance our research and products. These partnerships are invaluable, because they give us a true insight into both the leaders and the ideas of the future.
Several of our international locations are home to specialized programs for students. Each of these opportunities is specific to both a business segment and a region where HARMAN is located. What they all have in common is that they help students accelerate their skills and build up their careers.
Check the map below to see if there are specific programs in your geographic location.